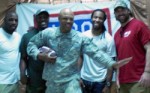 Staff Sgt. Truesdale
Staff Sgt. Truesdale has served his country for more than 20 years which included two tours in Iraq in the past seven years.  In 2003, Truesdale was serving in Tikrit, Iraq when he was hit with an antitank mine.  This injury made his civilian job as a warehouse material handler impossible.  The inability to work in his civilian job created a financial hardship for Staff Sgt. Truesdale and his family resulting in the possibility of  foreclosure on their home.
Through a partnership with Homeowner Answers, the North Carolina Heroes' Fund and Homeowner Answers were able to help Staff Sgt. Truesdale restructure his mortgage and save his house.  Truesdale volunteered for another tour of duty in Iraq beginning in April 2010.  The North Carolina Heroes' Fund and Homeowner answers are extremely grateful to Staff Sgt. Truesdale for his service.
A note from Staff Sgt. Truesdale:
"I want to personally thank the North Carolina Heroes Fund for their most recent help with a stressful situation. Through a partnership with Homeowner Answers, the  North Carolina Heroes' Fund was able to set up a loan repayment plan and save my home from foreclosure.
I am volunteering for yet another tour in Iraq to help out my fellow soldiers that are fighting for America's freedom, this couldn't have come at a better time for me and my family.
I can now focus on my job and not have to worry about my family's finances back home. I am forever grateful to the North Carolina Heroes' Fund for all that you all do for North Carolina veterans and service members, God Bless all of you!"