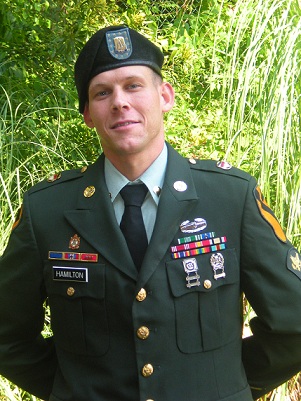 Sgt. Hamilton
Sgt. Hamilton joined the United States Army in September 2004 and was honorably discharged for medical reasons in October 2010.  During Hamilton's service in Iraq in 2007, his convoy suffered blasts from an IED.  Sgt. Hamilton served as .50 caliber gunner leaving him with little shelter from the attack.
As a result of his injuries in Iraq, Hamilton was diagnosed with a Traumatic Brain Injury, Complex Regional Pain Syndrome, and Post Traumatic Stress Disorder he also suffers from permanent nerve damage to the left side of his body.  These injuries impact Sgt. Hamilton's life greatly, making it very hard for him to work and resulting in his wife becoming a full-time caregiver.
The North Carolina Heroes' Fund is honored to provide financial support to this dedicated patriot and his family.