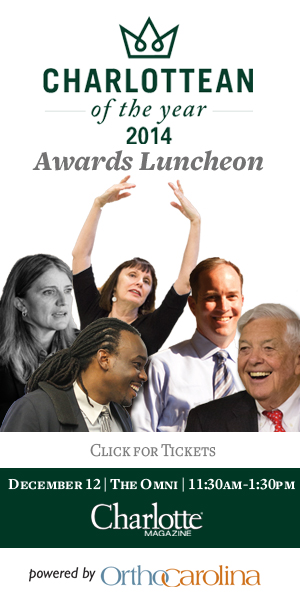 NCHF Named a Charlottean of the Year in Philanthropy
Charlottean of the Year 2014 (Philanthropy): Six Charities Worth Your Dollar
This is a generous city. A recent study in the Chronicle of Philanthropy ranked the Charlotte metro area ninth among large American cities for the percentage of income its residents give to charity. But how do you know where to give? Start here. These groups provide healthy food, mentoring, after-school tutoring, and help paying the bills…
NORTH CAROLINA HEROES' FUND
What They Do: Support current and former members of the military who suffer financial hardships as a direct consequence of
their service.
Why you should donate: With severe backlogs at the U.S. Department of Veterans Affairs, it can take nearly a year for a new disability claim to be processed in North Carolina, according to the Center for Investigative Reporting. While they wait, veterans often need help paying bills, especially if they're unable to work or require a caretaker's assistance.
Success story: After serving overseas, a veteran asked for just one month of support before his VA benefits began. When he caught up on his bills, he returned to North Carolina Heroes' Fund as a volunteer and began working at a homeless shelter in Winston-Salem.
To volunteer or donate: Visit ncheroes.org or call 828-284-2858.
Click on the link to read about the other 5 non-profits. https://www.charlottemagazine.com/Charlotte-Magazine/December-2014/Charlottean-of-the-Year-2014-Philanthropy-Six-Charities-Worth-Your-Dollar/