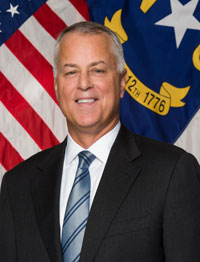 Chairman, NC Secretary of Transportation Tony Tata
Tony Tata was appointed Secretary of the North Carolina Department of Transportation by Governor Pat McCrory in January 2013.
Tata, who retired from the U.S. Army as a brigadier general, brings to his position more than three decades of public service as a military officer and public school system leader. He has a history of successfully leading and transforming large, complex organizations with vast responsibilities.
Most recently, he served as the Superintendent of the Wake County Public School System, leading the state's largest school district of 18,000 employees and 150,000 students to record academic heights. During his time in the military, General Tata's last combat tour was in Afghanistan, where he served as the Deputy Commanding General of U.S. forces from 2006 to 2007. Throughout his career, General Tata planned and implemented multiple operations involving complex transportation and infrastructure challenges, ranging from multi-mode operations involving ports, airfields, rail and highways to designing and implementing extensive infrastructure plans in developing countries. In the past five years, General Tata has successfully managed large budgets, ranging from $4.5 billion in the Department of Defense's counter-roadside bomb program to $1.25 billion in the Wake County Public School System.
General Tata served two tours of duty in the 82nd Airborne Division at Fort Bragg. He also served as a brigade commander in the 101st Airborne Division and as the Deputy Commanding General of the 10th Mountain Division. Among his military decorations, he has been awarded the Combat Action Badge and Bronze Star, served as a Master Parachutist and graduated from the U.S. Army's Ranger School. He is listed as a distinguished member of the 502nd, 504th and 505th Parachute Infantry Regiments.
Tata received a Bachelor of Science at the United States Military Academy at West Point, a Master of Arts in International Relations at the Catholic University of America, a Master of Military Art and Science in Strategic Planning at the U.S. Army's School of Advanced Military Studies, and was a National Security Senior Fellow at the Harvard University Kennedy School of Government.
General Tata and his wife, Jodi Amanda Tata, have two children, Brooke and Zachary.