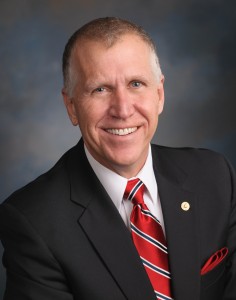 On Tuesday, May 26 we will be holding our Annual Charlotte Heroes Lunch at The Omni Charlotte with Keynote Speaker Senator Thom Tillis.
As a member of the Senate Armed Services Committee and Veterans' Affairs Committee, Senator Tillis directly advocates for North Carolina's rich military tradition, our veterans, and men and women currently in uniform. Thom also sits on the Agriculture, Nutrition and Forestry Committee, Judiciary Committee, and the Senate Special Committee on Aging. Thom is currently serving his first term in the US Senate. Prior to his election, Thom was Speaker of the North Carolina House from 2011 -2014.
The event will be from 11:30-1pm at The Omni Charlotte. Tickets are $100/person, $1,000/Table of 8. Other sponsorship opportunities available. Please contact Heather Whillier at 828-284-2858 for more information.
The North Carolina Heroes' Fund was founded in 2007 with the goal of helping our North Carolina veterans by relieving the burden of a short term financial hardship encountered on the road to recovery. This is one of two major annual fundraising events for the NC Heroes Fund.
Thank you to our sponsors:
Platinum Sponsor:

Patriot Sponsors:
Table Sponsors:
Because You Served
Ken & Bonnie Williams